BC rail trails
The Thompson Okanagan enjoys an extensive rail trail network as a result of decommissioned railroad systems throughout the region. These "rail trails" connect communities and provide extensive recreational opportunities for residents and travellers alike.
There are three primary rail trails within our region with a fourth currently in the process of being developed.
The Kettle Valley Rail Trail (Midway to Hope)

The Columbia & Western Rail Trail (Castlegar to Midway)

The Okanagan Rail Trail (Coldstream to Kelowna)

The yet to be named Rail Trail from Enderby to Sicamous

New partnership with with the Kootenay Rockies, expanding the rail trail system
The BC Rail Trails website currently promotes the year-round use of the Kettle Valley and Columbia & Western Rail Trails with plans to expand to serve as the hub for Regional Trails throughout the Thompson Okanagan and beyond.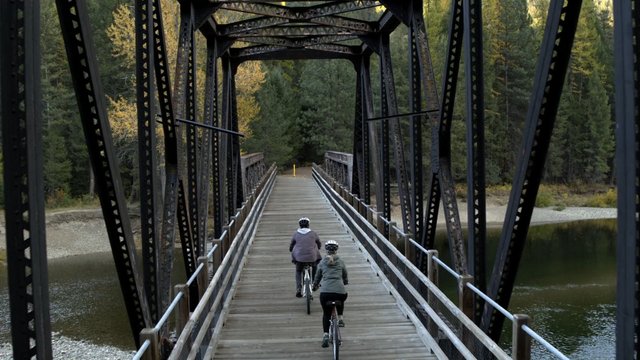 The marketing objective for the BC Rail Trails brand is to increase regional rail trail awareness in spring, fall, and winter.
goals
Be the main source of information for trail users

Manage expectations of trail conditions

Provide clear information on various segments

Provide Information on conditions based on season

Educate trail users on:

Importance to the Indigenous community

Responsible enjoyment of the trails

History of the trail

Increase economic impact for communities and stakeholders along the trail
target market
Focus on residents of British Columbia, Alberta, and Ontario between the ages of 25 and 65+.
Interest-based targeting will ensure the right user-groups are reached. Interests will include:
Biking/Cycling

Outdoor Recreation

Hiking

Culinary/Local Agriculture

Camping

History Buffs (Railway History)
myra canyon - google street view
google map
click button in top left corner to access more information